New Zealand lamb born with two faces - VIDEO
News
•
Tuesday 30 September 2014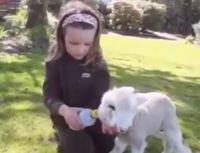 A lamb has been born in New Zealand with two faces. The animal, which doesn't have a name yet, has two mouths, two noses, three eyes and one head and it was born on Friday afternoon.
It is a biological anomaly and has been nicknamed Two Face by farmer Andrew Wilson's daughter Kate.
The lamb was discovered out in a paddock with his mother who had managed to give birth unassisted.
However, because of the situation surrounding the lamb's two mouths, it was not able to feed naturally.
Farmer Wilson was sure that the lamb would only last a day or so, however, he seems to be doing OK and is being cared for by Kate and her half sisters Sarah and Anna Parker, aged 8 and 10.
The lamb is partially blind - two of his eyes have fused in the centre giving him one big, blind, cyclops eye. He also appears to only be able to walk in circles.
Whilst he can only eat with the left hand side of his mouth, when he baas, both of his tongues move in unison.
No one seems to know what may have caused the strange condition. Former vet Andrew Roe, spoke to Stuff.co.nz, and said that it was one of those rare 'freak-of-nature- things that popped up occasionally.
To see the lamb in action, watch the video below...
Don't forget to LIKE OUR FACEBOOK PAGE below for more news, competitions and more.
News