New measures introduced to tree imports
News
•
Thursday 24 January 2013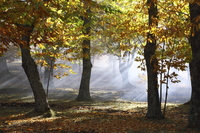 The NFU today (24/01/2013) announced that tighter controls on the import of native species of trees have been introduced. The move has been made as part of measures to defend against diseases such as ash dieback.
The new regulations will track the import of oak, ash, sweet chestnut and plane trees from countries within the EU and were announced by the environment secretary Owen Paterson, with immediate effect.
It is hoped the move will allow plant health inspectors track saplings if there are any suspicions that they carry a pest or disease.
Defra says tree import businesses and plant buyers will enjoy additional confidence that any pests or diseases will have been detected early on.
Mr Paterson said: "We need to ensure we have a healthy, thriving stock of our native trees and these controls will significantly help us to prevent pests and diseases from getting established in the first place.
"We have learnt from ash dieback how important it is to be able to act quickly to identify where infected trees may be. I want to make sure we can quickly trace and destroy diseased trees regardless of where they come from as part of our effort to better protect our woodlands."
The controls mean that, just as with trees entering from outside the EU, importers will need to tell plant health authorities the species, origin and destination.
This will allow risk to be gauged and an assessment of whether testing is needed.
At the moment, authorities do not know what trees are coming in from EU because of the rules over the single market.
The measure precedes a Plant Health Task Force report expected in the spring. Chaired by Defra's Chief Scientific Adviser, Ian Boyd, the task force has already recommended in its interim report that a risk register is developed for tree health and that an expert system is set up to provide quick intelligence on tree and plant health biosecurity.
News