New farming machinery finance available for UK agricultural sector
News
•
Wednesday 20 February 2013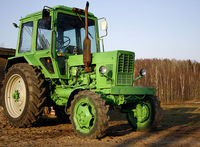 New farming lender AgriBank has offered the agricultural sector fixed-term, fixed-rate machinery and equipment finance.
The lender is offering high-rate savings products online which aims to fund farm lending for terms of up to five years.
Matthew Smith, the co-founder of AgriBank and the managing director of Eastern Counties Finance, spoke to Farmers Weekly saying: "The whole model is very simple. There are no currency risks, all deposits are in sterling and all lending is in sterling."
The choice of this type of funding has been reduced over the past few months due to the recent departure of ING and others from the UK leasing market.
Mr Smart's co-founder is Frank Sekula. The pair of them both have similar banking and farming family backgrounds and they will use specialist brokers to offer the funding to famer customers, while the savings products will mostly be sold online.
AgriBank is aiming to attract savers by offering interest rates that are up to 10% higher than those that are being paid elsewhere. And, though its deposits are not currently being covered by a depositor compensation scheme, they will soon be introducing products with depositor protection.
"UK agribusiness is at the centre of our activities because we know the sector well," said chairman Mr Sekula, when speaking with Farmers Weekly. "It is relatively low risk. We plan to operate a traditional banking model by taking deposits and lending them to farmers who we know will pay them back.
"Our aim is to offer savers more competitive rates than those currently offered by banks by focusing solely on the sector that we know - and being very efficient at delivering our services."
AgriBank has its head office in Malta, with its European banking licence issued by the Maltese Financial Services Authority. It also has UK Financial Services Authority approval to offer banking services in the UK.
Mr Smart's ECF business lent £92m of new funds in agriculture last year, including some mortgage business as well as its core machinery and equipment funding.
Its average machinery lending is for between £25,000 and £30,000, while average lend including mortgage business is £40,000 to £50,000 for three to four years and at rates between 5% and 6%.
News