New code of conduct for sky lanterns - NFU still wants complete ban
News
•
Thursday 21 August 2014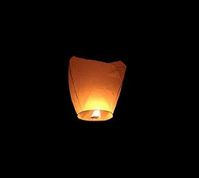 After lengthy discussions between the farming industry and the government, the Trading Standards Institute has published a new code of practice for sky lanterns.
The NFU and other farmers have been lobbying against the use of sky lanterns for a long period of time now due to the risks they pose both to crops and livestock.
The new code offers guidance to those people designing, manufacturing, distributing, retailing or using sky lanterns.
Speaking about the new code of conduct the NFU assistant land management advisor Jonathan Evans said: "The NFU welcomes the fact that Trading Standards and the wider industry are taking a much closer look at this issue and have recognised the dangers of releasing Chinese lanterns. However, we are still calling for an outright ban and will continue to lobby government until action is taken.
"People who buy lanterns have got to realise just how dangerous they can be - they have caused fires on an industrial scale, destroy acres of crops and kill or injure farm animals – so the public should consider alternative ways to mark celebrations.
"It's also important to point out that launching a lantern in an inappropriate location or during unsuitable weather conditions, or in any manner that results in damage to persons or property may make you liable for criminal charges or civil claims for damages.
"The NFU has been encouraged to see local councils such as Essex banning the use of lanterns on its land and large retailers like Tesco and Poundland taking action. We would urge others to follow their lead."
News