New 6m series tractors from John Deere
News
•
Thursday 25 October 2012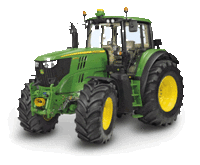 available from December 2012
John Deere has announced that its new 6M Series tractors will have more power, functionality and operator comfort than their 6030 series predecessors. The new tractors will be available from December 2012,
The new tractors were unveiled this month at the John Deere headquarters in Langar, Nottinghamshire. They will provide higher efficiency and better performance than the standard tractor range.
The newly styled 6Ms include tractors from 115hp up to the top-of-the-range 170hp. A 140hp model features the highest power level available yet from any John Deere four-cylinder tractor. The existing 6130, 6230 and 6330 standard-cab models will remain in the range for 2013.
The new series includes, three wheelbase sizes, optional triple-link suspension, a full-frame design and an optional front-axle brake to deliver maximum braking power with minimal pedal force.
News