National Pig Association wary over feeding pigs left over food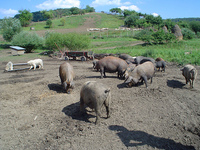 The National Pig Association has warned that recycling human food by feeding it to pigs must only be carried out under extremely strictly-controlled conditions. They made this statement saying that if precautions aren't taken then there could be a risk of outbreaks of some notifiable diseases, such as foot-and-mouth, classical swine fever and African swine fever.
The NPA came out with this warning after the idea of recycling left-over foods by feeding them to pigs was suggested by environmental campaigners.
The diseases being mentioned can be introduced to Britain in infected meat and can even be introduced to animals through meat that has been processed and cooked. They are also known to be economically damaging to the whole country and can only be controlled by widespread slaughtering of livestock.
The NPA has recognised that if pigs are fed properly-treated and rigorously-tested foods, such as unsold bread and vegetables, then this process can deliver significant environmental benefits. However, they also spoke out saying that there is always a risk of regulatory breakdown in a similar fashion to what happened in 2001 causing the national foot-and-mouth outbreak. This occurred when infected swill was fed to pigs on a Northumberland unit.
Dr Zoe Davies, the NPA general manager, spoke to the NFU saying: "We don't want this campaign to give the public the mistaken impression that it is alright to feed waste food to pigs."
In 2001, feeding waste food from catering establishments including home kitchens and restaurants - including vegetables - to pigs, was banned.
The law also restricted food waste from factories and distribution warehouses that contains or has been in contact with animal by-products such as raw eggs, meat and fish products. None of the items previously mentioned are allowed to be fed to pigs, including any pigs that are being kept as pets.
Zoe Davies continued: "We appreciate that the Pig Idea campaigners have the best of intentions and have been at pains to explain all the legal issues but we remain concerned that promoting the image of pigs eating waste food is unhelpful.
"The pig industry already uses over a million tonnes per year of by-product from food manufacturing, but only as part of a tightly-regulated and audited process."
News