National Pig Association calls for action to be taken over sow stalls
News
•
Wednesday 02 January 2013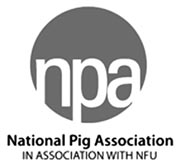 The European Commission is being called upon by the National Pig Association (NPA) to take firm action to tackle people who are blatantly flouting the EU partial sow stall ban.
The ban is already in place in Europe and it outlaws the use of systems where sows are confined within metal cages known as stalls.
However, the NPA has estimated that up to 40% of pigs within the EU are being produced on farms that are going against the ban. They have also calculated that around 40,000 pigs an hour are being delivered to continental processing plants from guilty farms.
A European Commission meeting was held in December and it revealed that there are only five member states that are fully compliant with the ban, including the UK which banned sow stalls in 1999. There was also a further six member states that reported a compliance in excess of 90%.
However, many of the remaining nations are terribly short of the mark, including some of the UK's biggest competitors. France is a mere 33% compliance, Germany is 48%, and the Netherlands is 63%. And, even Denmark, the largest exporter of pigmeat to the UK had only managed 85% compliance.
The European Commission health directorate, DG Sanco, has called for a meeting to be held to discuss the crisis on January 28th.
The NPA has claimed that the European Commission will, at the meeting, state that the situation is not as bad as the figures suggest, because now that the ban is in place, the member countries will be able to start taking enforcement action against people flouting the it.
However, though some countries are strictly enforcing the law, the NPA claims that others simply don't have the infrastructure to identify farms that are breaking the law. This then means that Europe is bound to have a 'significant law-breaking problem for some time to come', the NPA said.
In an official statement NPA chairman Richard Longthorp said : "We have been pressuring Brussels for more than a year to take measures to protect European consumers from illegally produced pigmeat. Its stock response has always been that it could do nothing until January 1, 2013. Well that date is now upon us and it needs to act urgently to have any chance of keeping its integrity intact."
News