National campaign needed to prevent sheep worrying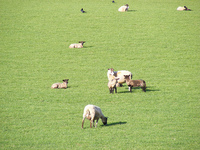 Farmers and industry representatives have called for a national campaign to make dog owners aware that their pets are capable of killing or seriously injuring livestock.
According to the Farmers Guardian, there are calls for agriculture to unite in order to educate the public and even the police about the number of dog attacks on livestock and the dangers pets play to farm animals.
The Farmers Guardian had recently reported that the issue of dogs attacking livestock is worsening and it is costing the public sector £1m each year.
Statistics that were obtained under the Freedom of Information Act (FOI) revealed that there were 739 dog attacks on livestock in 2012, which was a rise on the 691 of 2011.
Speaking to the Farmers Guardian, Hugh Broom, an NFU Surrey livestock board member, said that urgent action was needed.
He said that the ante needed to be upped as the problem is currently not being addressed. He has called for a national campaign stating that "One press release at Easter is not enough."
Broom is a sheep farmer who has lost 60 sheep over a three month period and he said that it was a 'no brainer' to target owners with a hard-hitting message.
He has even come up with his own tag line for the campaign, telling the Farmers Guardian: "We need to be saying, 'if you want to keep eating lamb, don't let your dog eat it first'.
"Farmers also need to be made aware of their rights and how dog owners can be prosecuted. Most farmers have very little knowledge of the law."
After some recent attacks on sheep, the Lake District Park has issued a warning to dog walkers
Cumbria Constabulary recently recorded the highest number of sheep worrying incidents with 130 last year, which had increased from 38 the previous year.
The Ulster Farmers' Union (UFU) said Northern Ireland laws focussed on the traceability of the dog.
A UFU spokesman said: "In Northern Ireland licenced dogs have a traceable microchip in place so if an attack takes place it can be traced back. Unfortunately, it is often an unlicensed dog that carries out the attack."
News