MPs call for pesticide research to be transparent
News
•
Tuesday 29 July 2014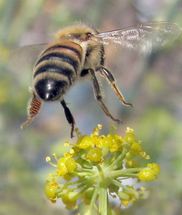 Research into the impact of pesticides linked to damaging bee health must be transparent and open to independent scrutiny, according to a number of MPs.
The government has drafted a National Pollinator Strategy, which is aiming to protect bees and other pollinators worth around £400m a year to the United Kingdom's economy. The strategy sets out that part of the research on the effects of neonicotinoids on bees, would be carried out by the people manufacturing the pesticides.
In order to inspire public confidence MPs on the parliamentary Environmental Audit Committee have called for the research to be subject to independent controls.
Speaking to Farmers Weekly, Joan Walley MP, the committee's chairwoman said: "When it comes to research on pesticides, Defra is content to let the manufacturers fund the work.
"This testifies to a loss of environmental protection capacity in the department responsible for it.
"If the research is to command public confidence, independent controls need to be maintained at every step.
She then went on to state that these studies must also be peer-reviewed and published in full.
Defra is also being urged to accept the two-year EU ban on neonicotinoids by MPs. They are calling on the government body to not seek to overturn this ban when the European Commission conducts its review next year.
At the end of last year, the European Commission ordered a two-year suspension on the use of three specific neonicotinoid pesticides after scientists linked their use to a decline in bee numbers. The three pesticides in question were thiamethoxam, clothianidin, and imidacloprid.
Owen Paterson, the former Defra secretary had strongly opposed the ban, saying that the evidence that these pesticides were harmful to bees was "inconclusive". He then called for the ban to be delayed in order for studies to be conducted at field level.
However, the committee has stated that the evidence in its last report was of sufficient concern to warrant a ban on all three neonicotinoids that were manufactured by Syngenta and Bayer CropScience.
According to Farmers Weekly, the report said: "New studies have added weight to those that indicated a harmful link between pesticide use and pollinator populations."
Picture courtesy of Jack Wolf, via Flickr Creative Commons.
Adam Rowden is a writer for Farming Ads view his Google+ page.
News