More supermarkets withdraw burgers from their shelves in wake of horsemeat scandal
News
•
Thursday 17 January 2013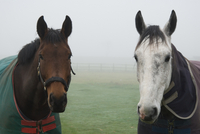 It was revealed yesterday that burgers stocked in both Tesco and Iceland were found to have contained horsemeat, and in reaction to this a number of other supermakets have withdrawn burgers from their shelves.
In fact, over 10 million burgers have been cleared from supermarket shelves in the wake of the scandal as Asda, the CO-op and Sainsbury's joined in the clearout.
These three supermarkets were not among the four retailers who were found selling the contaminated meat, but they have pulled some of their products as a "precautionary measure".
Evidence of horse DNA in burgers was found in November by scientists at the Food Safety Authority of Ireland, however, the organisation took no action at the time as they were waiting for three positive tests.
Most of their samples only had small traces but Tesco were forced to clear their shelves after a product was discovered that contained 29% horsemeat.
It has been reported that Tesco has lost over £300million from its share value since the scandal hit.
The FSAI said burgers came from the Dalepak Hambleton plant in Yorkshire and two plants in Ireland – Liffey Meats and Silvercrest Foods.
News