Ministers have 'completely misunderstood how solar farms work'
News
•
Friday 24 October 2014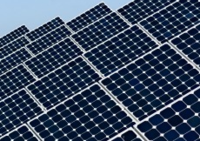 Ministers have completely misunderstood how solar farms work according to farmers and the solar industry.
Environment Secretary Liz Truss revealed on Monday that these new rules would come into place next January and they would remove the subsidies from the Common Agricultural Policy.
When speaking to the Mail on Sunday, Truss said that 10,000 football pitches worth of panels were "in the pipeline" and she also went on to state that these solar farms were "ugly" and "a blight on the countryside".
She also went on to state that the introduction of these farms is causing a lot of meat production and the production of other British produce overseas.
However, farmers who are operating these solar farms have said that Truss's justification for removing these subsidies is completely flawed. One of the main reasons behind farms operating these farms is to help them diversify their income, which helps them to stay in business.
And, another point, which Truss also completely failed to mention, was the fact that these farmers almost always continue to produce food.
Speaking to the Guardian, Clive Sage, a farmer with a 4.8MW solar farm in West Dorset who also continues to produce prime lamb, said: "It seems a shame that people aren't becoming informed before they make judgments. As times have moved on, as a small family farm, we've had to diversify to survive."
It is confusing for many farmers who were once encouraged by this government to go into solar farming in order to diversify their income streams. For many it most definitely feels like they are moving the goalposts.
The idea that solar farms are preventing the farming of meat and other produce is absurd. Andrew Hawkey has a 5MW solar farm in Cornwall. His farm has been in his family for four generations, and he still manages to produce lamb.
"There is virtually no loss [of production] at all." He told the Guardian. "It definitely helped us to survive, we are committed farmers, we are Cornish farmers, and we want to stay farming.
"We could almost say that we are farming double on the same land."
He even went on to say that the solar panels offered the sheep the unexpected benefit of shelter during the winter months.
There is also evidence from other solar farms around the country that shows that the solar panels can boost the production of lamb due to this added shelter.
Chris Huhne, the former energy secretary also spoke on Truss's plans. He spoke to Newsnight on Monday saying that the prioritisation of food production over energy made little sense.
He said: "We import our energy and we import our food, so frankly, saying that we should make less energy so that we don't have to import apples seems to me to be nuts."
News