Milk gate price debate - Muller Wiseman has its say
News
•
Tuesday 07 October 2014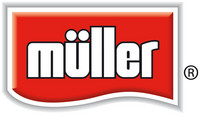 Recent weeks have seen prices paid to farmers by processors up and down the country fall drastically. Some contracts have seen a 6p cut from every litre since April this year.
Muller have released a statement directed at the FFA, which is led by David Handley - a Monmouthshire farmer. The statement asked the group to 'stop and think' before inflicting any further damage to the dairy industry. It also stated that the industry has already been put under severe pressure from the steep falls in the value of commodities like cream and butter, and further pressure could cause serious issues.
Ronald Kers, Muller Wiseman's chief executive, spoke out claiming that the FFA's actions made them look intent on destroying the UK's potential to become a world leader in milk production.
In the statement, Mr Kers said: "Dairy farmers have been breaking all-time records in terms of milk production and the prices received for their milk. Farms in the UK have increased production by more than 1 billion litres of milk this year - almost an extra litre for every ten litres which they produced last year.
"Unfortunately this extra milk coupled with weaker demand has affected farm-gate milk prices. This is a worldwide phenomenon repeated in all major milk producing countries, and the imbalance between supply and demand has resulted in the value of dairy commodities reducing by more than 50% in just 8 months."
He went on to state that some of this decrease in the price of commodities has been reflected in the drop in farm gate milk prices. But he did also say that most farmers have accepted that this is the nature of the milk market.
"But this group of militants" he continued, "believes that markets can be affected by unlawfully halting operations and vehicle movements in and out of dairies, which adds substantial cost and makes it harder for processors to recover from the impact of this slump.
"The taxpaying public, which includes hard-working farmers, will be left to pick up a substantial bill for the policing of these illegal blockades and hundreds of dairy employees who simply want to do their jobs before going home to their families will again be affected.
"The reputation of the UK dairy industry as a progressive, market responsive and innovative sector has been growing, and this is crucial if our industry is to attract the investment required to build world class processing capacity.
"These militants seem intent on destroying this and making the UK an unattractive prospect for investment. The consequences for the entire British agricultural industry could be disastrous."
Müller UK & Ireland Group is supplied by 1200 dairy farmers who are represented by their own elected farmer board (Müller Wiseman Milk Group Board). The company is committed to paying a leading market related farm-gate milk price.
Against the backdrop of this imbalance between volumes of milk supplied by dairy farmers and Müller's requirements, the company and the MWMG board have agreed a project which will identify mutually beneficial ways of mitigating the problem.
The initiative aims to find ways of achieving closer alignment between farm milk production and Müller's demand profile, reducing the need to sell surplus milk into low value markets. The project is expected to be completed by the end of this year.
DON'T FORGET TO LIKE OUR FACEBOOK PAGE BELOW FOR MORE FARMING NEWS!
News