Migration scheme for seasonal agriculture workers to be scrapped
News
•
Wednesday 18 September 2013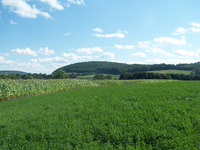 The government has decided to scrap the seasonal agricultural scheme which currently allows thousands of Eastern European migrants to work on British farms.
The scheme allows around 22,000 Romanians and Bulgarians to work in the UK, however, it will be closed at the end of 2013 when labour market curbs for workers from those countries are to be lifted.
The government has also announced that it isn't intending to open a new scheme for workers from outside the European Economic Area (EEA).
Speaking to the BBC, the Home Office Minister, Mark Harper, said: "At a time of unemployment in the UK and the European Union there should be sufficient workers from within those labour markets to meet the needs of the horticultural industry."
The Migration Advisory Committee released a report earlier this year that warned of the risks that could arise if the seasonal workers scheme was scrapped. It claimed that the scrapping of the scheme could cause a surge in labour costs and ultimately higher prices for fruit and vegetables.
The government's migration experts have stated that they did not expect a shortage of labour on farms in the short-term, however, they did state that shortages could develop after two or three years.
They also added that it was proving difficult to predict whether Bulgarians and Romanians would then continue to look for work on British farms when they were able to apply for any job in the UK without restrictions.
Officials from Bulgaria have told the Department for Work and Pensions that they don't expect there to be substantial reductions.
Due to the low wages and the nature of the work, it is also believed that British workers are unlikely to make up the shortfall.
Responding to these concerns, Mr Hoban said: "We do not think that the characteristics of the horticultural sector, such as its seasonality and dependence on readily available workers to be deployed at short notice, are so different from those in other employment sectors as to merit special treatment from a migration policy perspective."
The move was welcomed by campaign group Migration Watch.
Chairman Sir Andrew Green said: "This decision has to be right. We now have a labour market of 500 million in the European Union, it simply makes no sense to bring in unskilled workers from outside.
"This decision is a welcome indication that the Government is serious about reducing immigration. It can only be helpful to the young British workers seeking their first job."
However, farmers have warned that the closing of the scheme could then lead to higher fruit and vegetable prices.
News