Migration committee labour warning echoed by the NFU
News
•
Wednesday 15 May 2013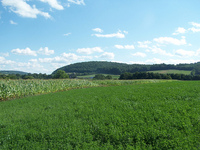 The Migration Advisory Committee has stated - in a recently published report - that a labour shortage in the horticulture sector could lead to higher food prices, a rise in imported fruit and vegetables and a loss of full time jobs.
The report also recommends that the government considers some proposals for a replacement to the Seasonal Agricultural Workers Scheme. This targets workers from non-EU countries and the report claims that a replacement scheme would help the UK horticulture sector thrive.
Anthony Snell, vice chairman of the NFU's horticulture and potatoes board, said: "British growers have come to rely on migrant seasonal workers to produce and harvest their crops every year so it is absolutely vital that we have access to a new SAWS after 2013, particularly given a rising demand for world-class British produce.
"The MAC makes a solid case for a replacement to SAWS – describing it as extremely well managed and important for keeping long term migration down.
"MAC points out that the alternatives to replacing SAWS are bleak - we either accept that there will be a contraction of the horticulture industry in the UK or wait for technological advances that might, in future, reduce our reliance on migrant workers. This will never be feasible for certain crops and, where the technology does exist, is likely to be inaccessible because of the huge levels of investment required.
"What's important now is that the Home Office makes a decision based on the evidence provided. Uncertainty and delay on this issue is going to discourage growers from investing and expanding their businesses with any confidence, so time is of the essence."
The NFU released a survey earlier this year, which revealed that over 95% of growers who used SAWS labour in 2012 felt that the removal of the scheme would have a negative impact on their business.
The survey, completed by growers who employ over one third of England's total seasonal workforce, also shows that every 3.5 seasonal jobs support one UK permanent job.
The NFU has developed proposals for a new seasonal labour scheme that will allow the horticultural industry to respond to the demands of consumers and continue to compete with imports.
News