Migrant labour powering British dairy farms
News
•
Tuesday 09 September 2014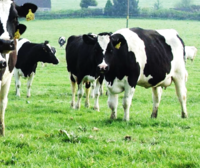 The Royal Association of British Dairy Farmers has revealed that a third of dairy farms in the UK relied on migrant labour.
Within the survey it was shown that a poor work ethic among Brits and unrealistic expectations about careers progression are part of the reason behind the increase in the number of foreign workers within the dairy sector.
The survey showed the issues surrounding dairy farmers when it comes to their workforce.
Around 40% of the 250 people who responded stated that they had encountered staff recruitment issues in the last five years.
There were a number of reasons given with common ones including the difficulty in finding skilled workers.
57% of the employees were from Poland with a significant number from the Baltic States, particularly Latvia. There were also others from a range of other countries outside the EU, from the Philippines to New Zealand.
When it came to the length of time these migrant workers were going to stay, 56% of farmers indicated that they expected them to stay for around two or more years. Very few farmers saw them as temporary or transient.
Tim Brigstocke, the RABDF policy director, said that migrant workers were, without doubt, indispensable on UK dairy farms.
However, he then went on to say that there was a question mark around their future in terms of training and sourcing.
And, other problems come with the issues surrounding the flow of EU residents and the UK's position within the EU.
It is widely regarded that if all of the Central and Eastern Europeans went back to their native countries then the dairy farming industry in the UK would be in a very serious situation.
So many farmers are now dependent on this migrant labour force.
Derrick Davies is the RABDF vice chairman and he has 300 dairy cows in Reading. He has employed the same Polish worker for 10 years.
Speaking to Farmers Guardian he said that the work his employee has provided over the years has been 'outstanding'.
He also spoke out saying that there was a cultural problem in Britain where "herdsmen think they should be promoted to farm manager in a year and move on when they're not".
"It is a very demanding job and I think people's expectations are way too high," he continued.
"From my experience, people from countries such as Poland are prepared to work harder."
Mr Brigstocke said that the migrant workers were happy to fill the gaps in exchange for learning English and earning more money than they would win their home countries.
RABDF are saying that they now need to work harder to encourage more people into the dairy industry.
News