Men arrested after sheep found in back of van
News
•
Thursday 24 October 2013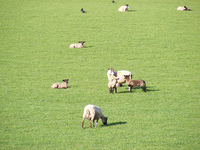 The police are looking to identify the owners of three sheep that were found in the back of an Astra van on the M6 this morning.
The stolen animals are believed to have come from the Warwickshire or Northampton area.
Officers stopped the vehicle around midnight, near to junction 5, and they discovered the three animals bound with shoelaces in the back.
Two men, aged 24, were arrested on suspicion of theft and another five men, aged 23, 26, 29 and 30, were also arrested on suspicion of conspiring to steal.
Sergeant Sarah Phillips, from the Central Motorway Policing Group, said: "We are really keen to trace the owners of the sheep.
"Their identity tags were ripped from their ears and their legs were tied with shoe laces. When we found the sheep we called the RSPCA who attended the station.
"Officers initially took the sheep to Sutton Coldfield police station and tended and cared for them while they awaited the RSPCA. Despite their best efforts, one of the animals died as a result of its ordeal.
"The other two – apart from their ear injuries - appear to be otherwise fit and healthy but are very shaken and frightened.
"We are still establishing why these sheep were in the back of the van and where they have come from but we believe that they could be worth a lot of money on the black market.
"What we believe from our initial inquiries is that the vehicles may have been travelling in tandem from the Warwickshire or Northampton area and we are appealing to the owners of the sheep to come forward."
Anyone with any information is urged to call Sarah or one of her team on 101. Or people can contact Crimestoppers anonymously on 0800 555 111.
News