Man banned from every farm in the country after having sex with a goat
News
•
Thursday 22 August 2013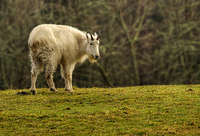 23 year old Robert Numan has been banned from going to every farm in the UK after he admitted having sex with a goat.
He initially denied having intercourse with the goat at a farm in Whiltshire in April and the 23 year old was due to stand trial but at the last minute changed his plea to guilty at north-west Wiltshirt magistrates court in Chippenham and admitted one count of an act of sexual penetration on the animal.
He will be sentenced on September 12 and until then Newman will have to abice by a curfew of being indoors between 7pm and 7am and also stay away from all farms.
The specific act is under the Sexual Offences Act 2003 and this includes having sex with a living animal. The offence carries a maximum sentence of six months imprisonment on summary conviction.
Last year, Nicholas Saunders was convicted of having sex with his ex-wife's dog in her bed while she was gone. Saunders was ordered to attend a sex offender's course and placed on the registry for 5 years.
News