Lots of potential for British dairy industry claims new NFU strategy
News
•
Wednesday 03 July 2013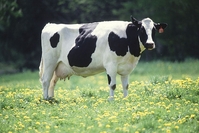 A new NFU strategy has been revealed, which claims that equitable contracts, which rewards farmers for investment and high-quality output, must be the foundation for growing a profitable dairy industry.
The strategy was launched at the Livestock Event yesterday. Called 'Compete to Grow', it predicts a bright future for the British dairy industry, if the opportunities for market growth equivalent to an additional four to five billion litres are seized.
The right environment must be created for British farmers and the dairy supply chain to thrive. Therefore the NFU, Defra, Dairy Co and Dairy UK to work together, in order to achieve this.
NFU dairy board chairman Mansel Raymond said: "The future presents a number of opportunities to British dairy farmers who are prepared to look to the future and invest. Population growth and consumption trends suggest the global and domestic dairy market will grow.
"Growth at farm gate can only happen in conjunction with increased processing capacity. While much has been said about investment in liquid milk processing, growth will also require more state-of-the-art processing capacity for other dairy products.
"With this vision and strategy I want to unite the industry in increasing our domestic production and processing. Farmers and processors need confidence in each other's will and ability to invest and produce what the market wants and seize these opportunities.
"We believe that to trade globally, you need to compete globally; that's the basis for 'Compete to Grow'."
News