Lincolnshire man crowned most nature-friendly farmer in the UK
News
•
Monday 23 September 2013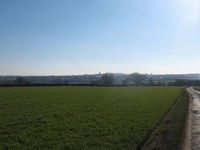 Nicholas Watts, of Vine House Farm in Lincolnshire, who has been nurturing wildlife on his land for more than 20 years has been crowned the most nature-friendly farmer in the UK.
The NFU member impressed the judges in the RSPB Nature of Farming Awards through his dedicated work for declining species.
On his 2,000 acre farm, Mr Watts grows a wide variety of crops, including oilseed rape, wheat, potatoes and sugar beet. He also grows canary seed and sunflowers specifically for wild birds. Mr Watts has also said that a decision to farm 300 acres of land organically was made with the local wildlife in mind.
Speaking to the NFU official website, he added: "In 1992, after recording the breeding birds on my farm for ten years, I realised there had been a big drop in numbers. This worried me so I set about trying to reverse that decline and I have succeeded with several species.
"Since the mid-1990s the national numbers of some farmland birds such as the yellow wagtail have continued to decline. I'm delighted to have shown that it's possible to buck this trend, but I feel that farmers need to be given as much support as possible to put wildlife back on the land.
As well as all of the above, he has also planted 4km of hedges, created 12 ponds, maintained grass margins for barn owls and sown 15 acres of wildflower meadows among a number of other projects.
"We all want good quality food to eat, but most also want colour and birdsong in our farmed countryside too. Now, more than ever, we need the government to support farmers like me and the many others who are doing good things for wildlife but who can't continue without the financial support to do it."
The Nature of Farming Award is run by the RSPB, supported by Butterfly Conservation and Plantlife and sponsored by The Telegraph. Mr Watts beat eight finalists to the title, which was decided by a judging panel and public vote.
News