Lawyers warn farmers over changes to inheritance tax
News
•
Tuesday 26 March 2013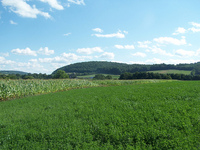 Lawyers in the UK have warned farmers that a change in the laws surrounding inheritance tax could "prevent the transfer of whole farms to the next generation", according to Agrimoney.com.
The lawyers have stated that the change in the way that inheritance tax is calculated could lead to some awkward circumstances for UK farmers.
The current situation sees borrowers who take out loans against, for example, their homes to buy farming land, that debt then counts against the home when it comes to calculating their inheritance tax.
Therefore, the value of the house will then be reduced by the amount of the loan, while the farmland would pass on free to the inheritor through the exemption on agricultural land from inheritance tax, or other assets through business property relief.
However, the latest changes that were announced in Wednesday's Budget have dictated that some of the loan, and maybe all, should be put against the asset purchased.
Agrimoney then reported that if this were to be the case, the home would then be liable for inheritance tax at 40% despite the loan, which is a factor that lawyers have warned could discourage farmers from investing. Or, it could even mean that we would see large asset sales, after death, for operations that already have borrowings on them.
They have also reported Damian Bloom, private client partner at London-based Berwin Leighton Paisner, saying it could "hit entrepreneurs who have tried to grow their business by borrowing against their homes, as it will potentially restrict inheritance tax relief on those businesses".
News