Is this the future of chicken farming? You'll never guess what they are planning now!
News
•
Wednesday 21 May 2014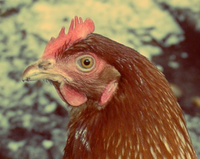 In today's world it seems that the welfare of farm animals is getting more and more important. Which is fantastic. When you think of ways in which animals can be better treated on farms, what are the first things that come to mind? For most it is larger roaming areas or better living conditions. One thing that most certainly doesn't come to mind is a virtual reality...
Yes that's right, a new project has been conceptualised by an assistant professor in design at Iowa State University that sees chickens tricked into thinking that they're free range, while they are actually contained within small enclosures.
Let me say that one more time. This project, named "Second Livestock" would see chickens wearing virtual reality headsets to trick them into thinking that they are living in a lovely, larger, less stressful surroundings.
'Surely this cannot be real', I hear you asking. Well, it is hard to tell whether or not Austin Stewart - the brains behind the idea - is serious or not.
It seems that, whilst he is not 100% serious, this 'joke' has not been futile. Stewart created this project in order to spur more people into discussing animal welfare, whilst also taking a look into our relationship with technology. And, he also wanted to see just how many people would actually believe that researchers would intend on doing this - which seems to have been quite a lot seeing as it has been picked up by a lot of press in here in Great Britain.
However, speaking at Techcrunch, Stewart did say that he would be willing to work with anyone who is willing to offer their services in order to make it happen.
Speaking to journalist Liz Dwyer, Stewart said: "In my presentations I try to present the project with an earnestness that makes the audience question whether or not it's real.
"Most people are on the 'this is fake' side of the fence until I announce that they will be able to try out the technology behind Second Livestock in a few minutes. It is pretty great to watch the faces of the audience at this moment."
So, what do you think about this idea???
News