HSE reveals that farming is Britain's most dangerous industry
News
•
Wednesday 02 January 2013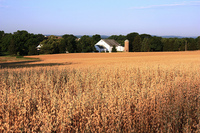 The Health and Safety Executive Executive (HSE) revealed that 33 farm workers were killed at work during the period from April 2011 to March 2012, which was a 10% increase on the previous year.
So, going forward to 2013, the industry as a whole will want to shake off its unwanted tag of "Britain's most dangerous industry".
As well as deaths in agriculture, serious injuries have also remained stubbornly high over the past 12 months. Recorded injuries to farm workers rose from 948 to 1,033, which is a 9% increase and the HSE estimates that just one in five farm injuries is officially reported, which means that these figures only tell half of the story.
Farmers Weekly and NatWest Mentor carried out a survey that revealed some disturbing gaps in practice on farms. Over half of the 378 employers that were surveyed admitted to not having an official documented policy. A further 30% also admitted to never having given their employees health and safety training.
However, farmers to appear to be determined to change their poor health and safety record. The latest HSE programme of safety and health awareness days was oversubscribed in November.
News