Hot air balloon caused stampede that led to 800 piglets being miscarried
News
•
Tuesday 14 October 2014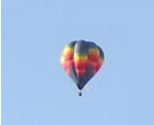 A pig farmer has been awarded nearly £40,000 in compensation after a two-year court battle over whether or not a hot air balloon had caused his pigs to stampede.
The incident occurred in April 2012 at Low Moor Farm in Sand Hutton, which is run by Dan Gilbank. And, after two years in court and the use of a maths expert, a golfer's range finder and a lucky photograph, the case finally came to a close.
Mr Gilbank, 46, claimed that a low-flying hot air balloon had spooked his 250 pigs causing them to stampede and one which did not end nicely at all.
The stampede caused 140 sows to miscarry, which saw around 70% of the litter die, which is around 800 piglets.
Three of the sows also died from heart attacks and a boar also passed away the next day due to his injuries.
The hot air balloon was carrying a party of sightseers over the farm causing the pigs to charge through their fences and stampede 200 yards before falling in a ditch at the end of the field.
Due to the fact that the pigs had been frightened in the past by similar incidents, the farm is listed with the Civil Aviation Authority.
The law states that hot air balloons are banned from flying lower than 1,500ft over the farm, or closer than 1,50 ft to it.
However, on this occasion the balloon was suspected to have flown closer than these limits allowed.
Mr Gilbank said that the balloon was so low that it it had to switch the burners on in order to get over the trees. And then, as a result of this, the pigs ran off 'like lemmings off a cliff'.
The company that operated the balloon, Wiltshire-based Go Ballooning, did insist that it had come no closer that 2,500ft to the farm.
The insurance company for Go Ballooning attempted to use GPS data that was generated during the flight to back their claim that it could not have caused the stampede.
However, the farmers acquired a photograph that was taken by a neighbouring farmer of the balloon and then contacted a professor of mathematics from the University of York.
Chris Fewster was able to use trigonometry to show that the balloon had been at a height of only 100ft and had been less than 1,000ft from the pigs when its burner was fired.
In order to help with the calculations, Mr Gilbank used his laser rangefinder - a golfing tool that is used to measure the distance to the green - to be able to work out the height of the trees.
As a result, the insurers, who had initially offered £10,000 compensation, have now agreed a settlement of £38,782.
News