Horsemeat found in burgers at farming college
News
•
Friday 22 February 2013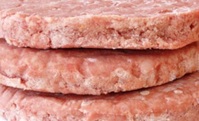 According to the Belfast Telegraph, burgers containing horsemeat have been discovered on the menu at a college which trains young farmers.
Michelle O'Niell, the agriculture minister for Stormont, confirmed that equine DNA had been detected in products that were supplied to two campuses of the College for Agriculture, Food and Rural Enterprise (CAFRE).
The sites were located at Greenmount in Co Antrim and Loughry in Co Tyrone.
Mrs O'Neill told the Belfast Telegraph that she could confirm that burgers containing horsemeat have been supplied to the Eurest outlets at both campuses.
She went on to say: "CAFRE has a service contract with Eurest (a subsidiary of Compass) which commenced in August 2011, to provide catering across the three CAFRE campuses.
"Compass took the precautionary measure of withdrawing from the menu all burgers supplied by a manufacturer within its supply chain, whose products were referred to in the media and sent samples for testing.
"Subsequently, on Thursday February 14, the test results revealed traces of equine DNA which Compass notified immediately to CAFRE Management.
"On Friday February 15, as soon as CAFRE received written confirmation from Compass, all staff and students were notified of the situation."
Mrs O'Neill outlined the information in response to a written Assembly question posed by Ulster Unionist MLA Jo-Anne Dobson.
News