Horse meat discovered in beefburgers in the UK and Ireland
News
•
Wednesday 16 January 2013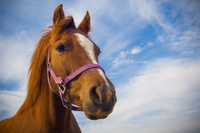 DEFRA is working in conjunction with the Food Standards Agency (FSA) in an investigation to find out how beefburgers on sale in the UK and Irish Republic supermarkets became contaminated with horsemeat.
It was revealed by Irish food safety officials, who carried out tests two months ago, that the products containing horse meat had been stocked by a number of chains including Tesco and Iceland stores in the UK.
They said there was no human health risk and the burgers had been removed and the BBC reported that Tesco said it was "working... to ensure it does not happen again".
DEFRA and the FSA are working hard to "urgently investigate" how the products came to contain horsemeat.
The FSA has also called a meeting of food industry representatives.
According to the Food Safety Authority of Ireland (FSAI) the contaminated meat came from two processing plants in Ireland - Liffey Meats and Silvercrest Foods - and the Dalepak Hambleton plant in North Yorkshire.
The burgers had been on sale in Tesco and Iceland in the UK and the Republic of Ireland, where they were also on sale in Dunnes Stores, Lidl and Aldi.
A total of 27 burger products were analysed, with 10 of them containing traces of horse DNA and 23 containing pig DNA.
The BBC stated that horsemeat accounted for approximately 29% of the meat content in one sample from Tesco, which had two frozen beefburger products sold in both the UK and Ireland contaminated with horse DNA.
In addition, 31 beef meal products, including cottage pie, beef curry pie and lasagne, were analysed, of which 21 tested positive for pig DNA.
FSAI director of consumer protection Raymond Ellard said several investigations would now need to take place.
He told the BBC: "The companies have taken a very responsible attitude. On a voluntary basis they have withdrawn products from sale, so have the retailers.
"They are co-operating completely with the authorities here to investigate how this could have happened. A long chain of inquiry has to take place now to look at all the raw ingredients that we use for these productions, where they came from and how the cross-contamination could have occurred."
News