Horrific animal abuse in dairy farm condemned - 8 people sacked - VIDEO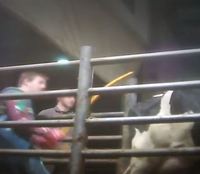 Eight employees at Canada's largest dairy farm have been suspended after a video was released showing cows being viciously beaten and kicked repeatedly in the head.
The footage was released by animal rights campaigners and was shot at the farm, which is situated in British Columbia.
The British Columbia Society for the Prevention of Cruelty to Animals (BC SPCA) received the footage from the Mercy for Animals Canada group. It appears to show employees from Chilliwack Cattle Sales punching, kicking, and hitting cows with chains, canes and rakes.
The cows have sustained puss and blood-filled wounds in the process, which were also depicted in the video footage.
BC SPCA officers, who were accompanied by respected cattle expert Dr James Reynolds, inspected the property in early June as part of an ongoing investigation into how animals are kept at the company.
Speaking to The Independent, Marcie Moriarty, the BC SPCA's chief prevention and enforcement officer spoke of how disturbing the video footage was saying that it highlights an urgent need for better standards to be in place to protect farm animals in the area from "abuse and neglect".
She also went on to explain that while a Canadian Code of Practice for the Care and Handling of Dairy Cattle was published in 2009, its requirements have not been verified on farms through third-party inspections or adopted into British Columbian law.
She said: "It is important that producers have clear expectations around standards of care for farm animals and that there is a system in place to monitor and enforce these standards."
Moriarty spoke out saying that the BC SPCA believes criminal charges relating to animal cruelty should be handed to the eight employees.
The co-owner of the farm, Jeff Kooyman, spoke to CBC News stating that his family was devastated by the allegations and he went on to say that they did not know the mistreatment of animals was going on.
He said: "The guys were going crazy. I couldn't imagine how people could do that to animals."
Kooyman then went on to add that the eight employees in question were fired once the footage came out.
"Obviously we failed," continued Kooyman. "Our employees have failed and we are going to be putting in a new training program to ensure that this never happens again.
"This is a family farm and this is not what we're all about. Maybe I failed to instill the passion and love that we have into our employees."
The British Columbia Dairy Association also spoke out in light of the footage, with their chairman Dave Taylor saying that the association is "deeply concerned and saddened" by the alleged incidents.
He said: "We have been working in close co-operation with the BC SPCA as this investigation has developed and outright condemn any mistreatment of animals in our industry."
WARNING - THIS VIDEO CONTAINS SCENES THAT SOME PEOPLE MAY FIND DISTRESSING AND SOME LANGUAGE THAT OTHERS MAY FIND OFFENSIVE.
Adam Rowden is a writer for Farming Ads view his Google+ page.
News