Hi-tech lasers could be used to measure cattle methane output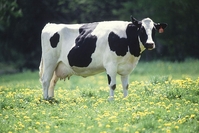 The Greenhouse Gases & Animal Agriculture Conference (GGAA 2013) gathered in Dublin last week and one expert revealed that hi-tech laser methane detectors could be used to provide a new method of estimating gas emissions from livestock.
Speaking to the group, Dr Mizeck Chagunda criticised the estimation process, claiming that they cannot reveal, accurately, the amount of gas being produced as they cannot access all of the required data.
"This means the estimates have a lot of uncertainty associated with them," said Dr Chagunda when talking to the NFU.
"The LMD method will allow us to collect data from large numbers of animals without disturbing their normal activities."
These laser methane detectors are hand-held portable units that can be pointed at livestock in order to record their methane output.
They are widely used in the environmental engineering industry to detect leaks from pipelines and landfill sites. However, they are now in frame to be used in order to measure the methane output of cattle, after some work was carried out at the SRUC - Scotland's Rural College.
Dr Chagunda said: "If you look at national inventories of greenhouse gas emissions in a lot of production systems they are either based on small numbers of animals or they are based on a complicated estimation process which cannot access all the required data.
After working with these lasers, the SRUC, and other collaborators, discovered that this method is just as effective as respiratory chambers. The chambers may be the most accurate when it comes to offering results, they are also extremely costly to run and animals must be brought to the facility, meaning only smaller numbers are tested each time.
Researchers also believe that measuring emissions in the animal's natural environment is cheaper and could be just as effective. One of the downsides of this process, however, is that it is time-consuming, as each cow must be individually measured by the researcher. However, the research team are looking for ways to improve the measuring technique.
"Despite the challenges associated with the use of the LMD, the technique has great potential as an alternative method in measuring livestock methane production," added Dr Chagunda.
News