HGCA programme to help growers increase their understanding of the entire grain production process
News
•
Monday 07 January 2013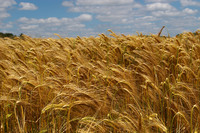 Growers around the UK are being invited to visit mills and maltings as a part of the HGCA's Meet the Processor 2013 initiative.
This is a move that is being made in a bid to give growers a practical and commercial insight into what happens to grain beyond the weighbridge.
The programme is free to attend and begins this month. It is being hosted by five flour millers, one feed miller and three maltsters from around the UK.
It will offer growers and opportunity to improve their understanding of local market requirements as well as the factors driving demand across the cereals industry. This includes the procedures all the way from raw material to the final product.
Speaking on the National Farmer's Union's website the HGCA's head of marketing, Roz Reynolds, said: "The quality challenges of this season have shown that HGCA's Meet the Processor is even more important for 2013 in encouraging and promoting a better understanding across the supply chain. It is about processors and growers working together.
"For those opening up their mill or malting it is an opportunity to show farmers their facilities and talk them through the technical aspects of what they do and issues that arise when buying grain, which will encourage a dialogue outside of contractual arrangements. For growers it will be a good chance to meet the people behind the processing to get an insight of how they work."
News