Health and safety goes out the window as farmers bring down silo - VIDEO
News
•
Wednesday 02 April 2014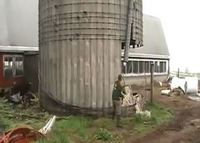 How would you go about taking down a concrete stave silo? Most people would leave it to the professionals! But these farmers in North America decided to give it a go themselves with nothing more than a sledgehammer.
The silo (which is bloomin' huge!) would have been used to store grains or livestock food, and its destruction resembles a very poorly played game of Jenga. Dangerous Jenga. Life threateningly dangerous Jenga.
As the video begins the demolition is halfway finished and one of the farmers is using a sledgehammer to knock away the supporting concrete panels. He then takes his final swing and the entire silo comes clattering to the ground.
It is extremely surprising that no one died in this DIY demolition job.
What do you think the Health and Safety Executive would say about it? A lot I would hazard to guess...
Adam Rowden is a writer for Farming Ads view his Google+ page.
News