Guide to reducing risk when rambling amongst livestock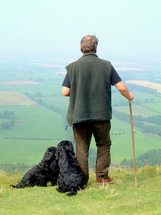 A man in his 60s died on May 13th, this year, and his brother was seriously injured after they were trampled by cows in a field near Winsley, Wiltshire.
These types of events are thankfully very rare when you take into account the thousands of walkers who stroll around the British countryside each year. However, this does not make the recent incident any less tragic and the thoughts of everyone in the farming world are with those who have been affected.
It is vitally important that farmers and walkers are both aware of the possible risks from livestock and any precautions that can be taken in order to reduce the chances of a similar accident happening.
The NFU has recently encouraged people to follow their own advice, along with the advice from the Ramblers Association and the Countryside Code.
Advice for ramblers
Walkers should remember that the countryside is technically a working environment where animals are put to graze. Therefore if you are out and about, you should always be mindful of your surroundings in order to be able to fully enjoy the experience. You should always be vigilant, especially when you are entering a new field and you should be even more vigilant if you cannot see the whole field that you are in. It is always a good idea to stay away from animals and to be aware of their movements.
During springtime it is especially important to be sympathetic to farm animals rearing their young. If they are doing so, you should always give them plenty of space.
If you are walking your dog in a field that contains cattle then you should never get between the cows and their calves and you should always keep your dog on a lead. You will want to ensure that your dog is under close and effective control whenever you are around cows and sheep. However, you do not want to hang onto your dog if you are threatened by cattle, you should let it go and allow it to run to safety, this will offer both you and your dog a safe outcome.
If you are walking and you do feel threatened by animals that are protecting their territory or their young then you shouldn't run. Simply move towards the edge of the field and, if at all possible, find another way around the field.
Dos and don'ts from the Ramblers Association
The Rambler's Association has also released some information to help people that are out walking in the countryside. Here is the list of their dos and don'ts.
Do
Try to avoid getting between cows and their calves

Be prepared for cattle to react to your presence, especially if you have a dog with you

Move quickly and quietly, and if possible walk around the herd

Keep your dog close and under effective control on a lead around cows and sheep
Don't
Don't hang onto your dog. If you are threatened by cattle - let it go as to allow the dog to run to safety

Don't put yourself at risk. Find another way round the cattle and rejoin the footpath as soon as possible

Don't panic or run. Most cattle will stop before they reach you. If they follow just walk on quietly
Advice for farmers
The NFU has also offered some guidance to farmers, who also have a responsibility for the safety of animals in their fields and for those people walking across their land. Farmers who keep livestock in fields that are crossed by public rights of way can face civil and/or criminal proceedings if members of the public are injured by their livestock.
If you know that some of your particular animals are likely to become upset by people walking in their field, or are likely to behave aggressively towards people, then you should take action. If you have animals such as these then you should consider whether they should be left in a place with public access, or one where walkers are known to stray. In fact, some livestock species and some breeds of bull are prohibited from being in a field that contains a right of way.
The NFU has produced some black and yellow signs highlighting the risks associated with dogs around farm livestock. Members can get signs free of charge from NFU CallFirst on 0870 845 8458 or from their group office.
News