Growers looking to the future of aquaponics
News
•
Monday 09 September 2013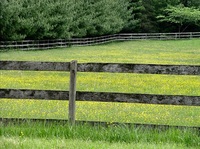 The World Water Week conference took place in Stockholm last week and it emphasised the importance of water to the future of food production.
World Water Week, began on the 1st Sept and finished on the 6th and the conference was informative and well attended.
It focussed on the importance of water to the farming industry, especially food production, and stated that we shouldn't underestimate its value.
It is obvious that the farmers and growers in the UK will need to discover a more secure supply of water in order to be able to grow food for a population that is expected to hit 70 million by 2027. A number of farms across Britain have already begun to make some major changes.
The National Farmers' Union's flagship magazine, British Farmer & Grower, was, earlier this year, given a tour of a cracking farm in North Essex. The farm belongs to NFU member Peter Thompson and his third generation fruit and vegetable business has several innovative projects that are helping to transform the business itself.
Brook Farm is located on the Tendring Peninsula near Harwich, and it has expanded and evolved greatly since it was founded in 1948 by Peter's grandfather George Thompson.
The farm has an aquaponics trial taking place in the old former potato sheds. In these adapted sheds, there are now herbs including lemongrass, Thai basil and kang kong being grown in a closed system using fertiliser that is supplied by live fish, with plant beds to clean and recycle the water.
The farm also has a newly-planted commercial orchard of fig trees, which Peter believes is the only one of its kind in the United Kingdom. The orchard is supplied water from a newly-constructed reservoir that is supplied by runoff from a road and housing development situated opposite the farm.
There is also a new half-hectare trial orchard of opal apples, that have been planted with partners Tendring Fruit. This was designed to test whether apple production can truly be sustainable.
Peter spoke to the NFU and said that the aim of this new Model Orchard was to work with Forum for the Future to assess the feasibility of producing a genuinely sustainable apple.
The farm's reservoirs are all managed as on-farm nature reserves and that three ponds had been restored in the last three years. He also stated that there is an on-going hedge and tree planting programme.
When speaking to the NFU, Peter said: "We're already looking at how we can address various issues such as water and fertiliser use, vehicle emissions, agrichemical footprints and even finance.
"To truly meet the definition, our use of environmental, social, human, manufactured and financial capital must all be sustainable.
"It is incredibly important that we look after our local and wider environment and we take this responsibility seriously. We manage the farm sensitively to try to encourage wildlife and to ensure we reduce our impact on the wider, global environment."
News