Growers feel the heat due to the cold
News
•
Tuesday 09 April 2013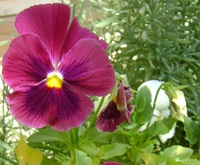 Slow garden centre sales, cancelled retail orders and poor consumer demand have had "catastrophic" impacts on business for growers of pansies, primroses and pot plants.
The cooler temperatures have caused a double whammy to the protected ornamental sector, with dampened market demand making it much harder for growers to clear spring stock, and it has also made the need for more fuel than normal to heat glasshouses for keeping plants alive.
Ian Riggs is an NFU horticulture board and the Chairman of the British Protected Ornamentals Association. He spoke on the NFU's official website saying: "Unlike food crops that tend to dominate the headlines, the £1.8 billion British ornamentals sector often gets overlooked. This is shaping up to be another poor year for plant growers, which after a bleak 2012 season could have catastrophic consequences.
"There have already been some high-profile casualties, with many more growers cutting back on production to reduce wastage and cost. But that doesn't help those who are now receiving cancellations for bedding plants that have already been grown to order.
"With consumers not showing much interest in getting out into their gardens during the cold weather retailers are abandoning the spring season and moving their attentions to summer stock. This leaves growers holding vast quantities of unsold stock, which will most likely have to be thrown away as there is no other market."
Earlier this year an announcement was made by the NFU that stated that the union would hold a supply chain summit in order to bring together ornamental growers and buyers. The summit would attempt to find ways of sharing risk as well as rewarding more equitably throughout the supply chain.
Mr Riggs added: "With so much investment and talent at stake the British ornamental sector needs to move away from a 'boom or bust' culture and find ways of injecting stability and commitment into its supply chain. Growers can't keep lurching from one season to the next hoping for a 'good year' to put them back on track."
News