Green energy gas production on Norfolk farm
News
•
Monday 04 February 2013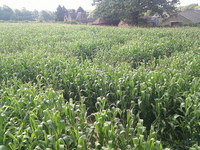 One leading Norfolk farmer has boosted his maize yields and further reduced nitrogen fertiliser losses by applying a new stabiliser product.
According to
EDP24.com
, Olly Arnold, a farmer and contractor of Spring Farm, Felthorpe, near Norwich, grows around 2,500 acres of maize and used the nitrogen stabiliser, Piadin, on crops last spring.
In other trials which were carried out under comparable conditions in northern Germany, biogas or energy maize crops showed a yield increase of an average 11pc.
According to Rob Buck, of Gleadell Agriculture, maize growers who are planning pre-drilling applications of slurry and AD plant digestate could reduce nitrogen volatilisation and nitrate leaching by adding a nitrogen stabiliser to spread material.
The Piadin was used by Mr Arnold, along with the digestate, on trial areas of crops grown on contract to Future Biogas - a company that produces green electricity by burning the gas through the anaerobic digestion process.
Suffolk farmer Oliver Knowland is one of the directors of Future Biogas, which runs two plants at Felthorpe, said that the initial results were encouraging. Even though the season was deemed to be pretty difficult, the results from the trials with Piadin-treated digestate suggested that the product went some way to preventing the leaching and volatilisation losses. He also said that the weather delays to the application did cause issues with maturity and harvest dates.
He told EDP24.com: "This year we hope to be able to use it with earlier digestate applications, in February and March, and will be adding 1,800 litres to sufficient digestate."
This amount would cover around 300 - 400 hectares which is around 1000 acres.
"Piadin will be used on 10pc of all energy maize crops this coming year. Defra and energy maize seed breeders are carrying out in-depth trials into its environmental effects and yield benefits," added Mr Buck.
News