Great British Farmers produce Great British Food
News
•
Monday 18 February 2013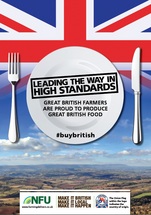 The NFU has recently launched a major Buy British campaign that is demonstrating how farmers in this country are leading the way in high standards for fresh, British food.
Adverts, that were placed in ten national newspapers, all carried the message which encouraged the public to buy British and it highlights the message that Great British Farmers produce Great British Food.
And, seeing as consumer confidence is at the top of the agenda, shoppers are also being reminded that they should keep an eye out for the farm assurance logo Red Tractor, which stands for traceable and independently inspected food, from the farm to the shelves.
The campaign was launched in direct response to the horsemeat scandal, which saw horsemeat being passed off as been in a number of imported frozen foods. It has been used to highlight the complexity of the food chain in some imported products.
Using the twitter hashtag #buybritish the NFU will also be championing British produce on social media and encouraging consumers to show their support and buy the high standard food produced on British farms.
NFU President Peter Kendall said: "British farmers are very proud of what they produce and are, quite rightly, furious about this current situation. They feel let down by what looks like a criminal element in an isolated part of the food chain which has certainly not helped in reassuring consumers that the food they are buying is what they say it is.
"Our meat industry is one of the most highly regulated in the country and it is imperative that we remind consumers that British farmers work to some of the most stringent standards. This gives me confidence that fresh, British meat should remain top of the shopping list. And I'm not alone. Anecdotal evidence from Eblex suggests that demand for assured quality beef remains robust and that consumers are increasingly looking for assurance marks when they are buying food.
"I am very happy to be working together with Eblex and Bpex on national newspaper advertising which will run this weekend to kick start the NFU campaign Buy British. This will have impact and send a clear message about the quality and traceability of food coming from British farms.
"So the NFU is telling the public that they can buy British in confidence. Look for the Red Tractor logo, as products bearing it have been independently inspected to accredited standards, are traceable from farm to pack.
"The supermarkets have an important role to play in rebuilding consumer confidence too. We want them to throw their weight behind Red Tractor, which in turn will send the positive messages consumers and the great British farmer needs, and would underline the value of the hard work that goes into ensuring that high quality products make it onto the supermarket shelves.
"We have been urging the public to make it British, make it local and make it happen as part of our Farming Delivers for Britain campaign. Today, in the wake of this horsemeat scandal, that has a new resonance for us all.
"Consumers should have the confidence that the products they buy are what they say they are. Our message to them is that British farms produce high quality produce and we want the public to continue to show them support."
News