Government to suspend green schemes for two years
News
•
Friday 20 September 2013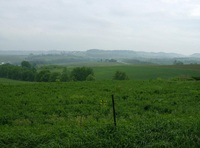 According to Farmers Weekly, the government is closing the environmental schemes that reward farmers who look after the English countryside.
These schemes will be closed for two years, as the government implements CAP reform.
Critics of the decision have claimed that it is a "massive threat" to wildlife and the countryside. However, Defra has no plans to let farmers sign new agri-environment agreements during 2015 as it is working to develop a successor to its existing environmental stewardship scheme.
The doors are already closed to entry-level scheme applications for 2014, with the exception of proposals that underpin any higher-level agreements.
Farmers who are already in the environmental stewardship shouldn't fear, as the payments to these groups will continue until they expire. However, Farmers Weekly have revealed that most renewals or new applications will be refused until the News Environmental Land Management Scheme (NELMS) starts on 1 January, 2016.
It is thought that thousands of British farmers will be affected, with around 11,000 entry-level stewardships set to expire during 2015. However, Defra has claimed that around 40,000 farmers with ongoing agreements, will continue to receive their agri-environment payments covering around 5m hectares. Defra stressed, when speaking to Farmers Weekly, that they would not be interrupting the environmental stewardship payments.
Some nations within the EU are expected to introduce new environmental schemes from the beginning of 2015. However, English farmers will be required to wait longer due to the fact that Defra wants a single annual start date to align NELMS with its single farm payment system. This means that it won't begin until January 2016.
News