Government to help English farmers with the cost of disposing of carcasses
News
•
Friday 19 April 2013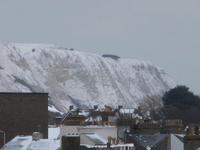 The NFU has welcomed the government's decision to help English farmers with the cost of disposing of their livestock killed by blizzards at the end of March. The number of animal carcasses that are in need of disposal is in the thousands.
The announcement has come after the Minister of State for Agriculture David Heath, and the NFU Deputy President, Meurig Raymond, both visited Cumbria last week.
It was during this visit that the Minister got the chance to see the situation for himself and he also had the opportunity to talk to farmers first-hand about the impact that the recent events have had on them. This was all made possible thanks to intensive lobbying over the last three weeks from the NFU.
NFU Deputy President Meurig Raymond said: "This very welcome move by Defra will come as a huge relief to those farming families who have struggled with the worst spring snow in living memory and have since faced the very specific problem of the cost of removal of large numbers of dead animals.
"The NFU will now continue to work very closely with the government on the detail of exactly how this money will be distributed."
News