Government takes 'sensible' line on neonicotinoids
News
•
Wednesday 11 September 2013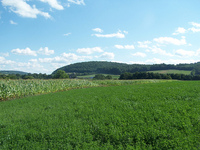 The government has stated that it believes the neonicotinoid restrictions are not justified by the evidence. The NFU has agreed with this stance stating that the government made this statement based on a balanced and sensible assessment of the science.
These statements have come following the publication of the government's response to the Environmental Audit Committee (EAC) report on pollinators and pesticides. This publication says that more should be done in order to understand and tackle the issues that are being faced by pollinators, however, it also stresses that any action should be led by science.
Dr Chris Hartfield, the NFU horticulture adviser, said: "This response is a very balanced and sensible reaction to the EAC's report.
"Pollinators are essential for maintaining our biodiversity and pollinating many agricultural and horticultural crops. To ensure they are rightly protected from whatever damaging challenges they face, it is essential that our actions are led by the science.
"The NFU is committed to the approach of producing more while impacting less on the environment and under this approach we are very mindful of the impacts of agriculture on pollinators. While acknowledging the importance of pollinators, the government's response also importantly recognises the value to society of food production and the underpinning role pesticides play in that production.
"These benefits have to be part of the consideration when managing the risks posed to the environment by pesticides."
The NFU also stated that it believes farming's commitment to protecting the environment is already helping pollinators. An international group of bee experts have revealed recent research that has linked conservation work and the agri-environmental management done by farmers and growers to the slowing down of bee, hoverfly and wild flower losses in recent years.
Dr Hartfield added: "The good news we should be celebrating is that declines in bumble bee biodiversity in Britain, have slowed since 1990, and for other wild bees - the solitary bees that make up around 90 per cent of our bee species - biodiversity has increased significantly in recent decades."
While the government considers the European Commission's sweeping restrictions on neonicotinoids to be unnecessary and the resultant costs unjustified, it acknowledges that it is legally-bound to implement the restrictions when they come into force on December 1.
News