Goat unable to stand or walk gets access to care - You'll never believe what happens next
News
•
Thursday 11 September 2014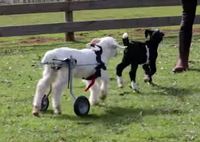 We were browsing the web this morning and came across this lovely video of Frostie the goat.
He arrived at Edgar's Mission, an animal sanctuary in Australia and was unable to walk and even stand properly. His weak legs were feeble and it was thought that he may not even survive.
Frostie was visibly frustrated by his immobility but worked tirelessly to improve his chances of survival.
In the end he borrowed a mobility kart from his good friend Leon Trotsky and as each day rolled on his zest for life grew and grew.
It wasn't long before he had graduated from his kart and was up on all four legs once again.
Now, each morning he happily trots around excited and eager for a fun-filled day with his friends.
To see his heartwarming story, watch this cracking video below...
You can also watch another brilliant video of a naked farmer getting baled here. It's sure to make you laugh!
News