Fruit growers shown best spraying techniques as part of Say NO to DRIFT campaign
News
•
Monday 15 April 2013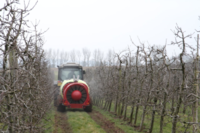 The Say NO to DRIFT campaign has received plenty of support from the industry, with well over a hundred growers and industry people attending recent orchard workshops.
Clean sprayers and nozzles are required if you want to get the best out of low drift nozzles. This was the simple, yet critical, message that was delivered to the orchard fruit growers who attended the recent series of on-farm workshops that were set up by the campaign.
According to Nigel Kitney, who is a Hutchinson agronomist and was the workshop's host-grower, the new nozzles can effectively reduce spray drift by up to 90%and have a larger orifice than the conventional types. He also told the NFU's official website that they are also designed with finer internal channels where the fluid can mix with the air.
He went on to say: "As a result, unless the sprayer is scrupulously cleaned, and maintained that way, blockages can result," said Nigel. It's an issue that he has encountered, and as a back-up to strong hygiene measures he also recommends fitting good filters.
"These inline filters between the pump and the nozzles don't always come as standard in older sprayers, but can usually be retrofitted," he advises, noting that they provide an insurance against blockages beyond what thorough cleaning may be able to achieve. "Ensuring high levels of hygiene and maintaining that level by ensuring the sprayer is cleaned out after every operation is key."
The workshops provided the growers with plenty of fantastic practical tips, however, they were also an opportunity for the growers to see low drift nozzles in action, in direct comparison to conventional nozzles. They were then able to see the results on water sensitive papers that were mounted in the orchard's canopy.
Nigel also noted that the new nozzles also deliver a coarser coverage pattern, however, all of the evidence shows that the pest control levels delivered are on a par with what can be achieved with conventional nozzles.
Factors such as correct nozzle selection and positioning to accord with tree size, spacing, water volumes and tractor speed were noted as further significant factors in delivering best results.
News