Four former NFU Scotland presidents say yes to Scottish independence
News
•
Thursday 14 August 2014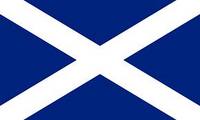 As the forthcoming referendum for Scottish independence draws nearer, four former NFU Scotland presidents have officially come out in favour of the Yes vote.
All four of them had been rumoured to be making their move on independence soon, however, they nailed their colours to the pro-independence mast at a press conference yesterday.
The press conference took place in Yes campaign headquarters in Glasgow.
John Cameron, John Kinnaird, John Ross and Jim Walker have between them had 19 years of experience of leading NFU Scotland.
Their argument for independence seems to revolve around the belief that Scotland has been ill served in EU negotiations by a number of Defra Ministers.
Mr Walker spoke out against the Defra Ministers claiming that they weren't independent operators stating that they had, since the 1990s, been 'simply driven by a UK Treasury imperative to steadily cut back farm support'.
Speaking to The Press and Journal, Mr Ross said: "Scottish farming must resist any further diminution of influence and we cannot go into the future facing years of uncertainty."
Mr Cameron, who was president of NFUS from 1978 to 1983, also spoke to the Journal saying: "We need our own representation in Brussels. Scotland is 85% Less Favoured Area and 15% Non- less Favoured Area. England is exactly the opposite and that makes Westminster politicians less likely to argue our case."
Mr Kinnaird also argued that Scotland's voice was usually ignored and stated that he was concerned that there could be a backlash against the nation of there is a No vote. He then went on to stress, however, that he does not see this as a vote for a political party.
When asked about what other former NFUS presidents thought about the matter of independence, Mr Walker was very critical of former Lib Dem MEO, George Lyon.
Mr Lyon is a rapporteur on CAP reform in the European parliament and the leader of Rural Better Together, and he was also an interim president of the NFUS. Mr Walker said of Mr Lyon that he was has no 'track record and no experience of dealing with the EU as a farmer representative'.
There have been some people claiming that the Yes group had no support from the food processing and marketing sector. However, Mr Walker also had something to say about that.
He said that anyone who is suggesting that there is only a premium for Scottish products because the country is a part of the United Kingdom, is 'talking rubbish'.
Another argument against an independent Scotland from a farmers' perspective has been that research funding could be restricted as it is mostly funded by the UK.
Mr Ross said: "Research commissions will go to wherever there is first class research and I have no fears that we will attract funding in the future. A lot comes from outside the UK in any event."
The four were all certain that in the next year or two, Scotland would be independant abd back in the EU as a full Member State.
News