Former Deputy Governor of the Bank of England predicts bright future for Welsh farming
News
•
Thursday 24 January 2013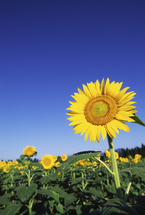 According to former Deputy Governor of the Bank of England, Sir Andrew Large, the economic climate for agriculture in Wales will improve.
Mr Large spoke at the annual Brecon and Radnor NFU Cymru County Conference in Builth Wells, where he said: "Since 2007, the UK's financial position has been under attack.
"The nation has seen cuts in Government expenditure, with modest inflation and no single policy can fix the mess — but things will get better."
He went on to compare the two worlds of finance and farming along with their contribution to the economy.
He said: "Both sectors have to cope with the burden of regulation, competition and technological developments. However, confidence in the future is vital for the well-being of any bank or farm — that is what's needed for lending to grow and investments to be made."
The union members then asked how the banks would provide financial support in the future and they also questioned how long interest rates were likely to continue.
Mr Large replied: "It is more important now than ever, for banks to lend in the right areas. Bankers, like farmers, have to be willing to invest capital, in areas that will bring a genuine return.
"But you have to be patient in rebuilding confidence after such a major collapse. This takes time and the scale of losses is something that people will not forget."
News