Flooding made worse by 'careless farming'
News
•
Friday 07 March 2014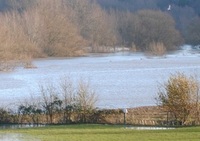 Some experts have spoken out and said that careless farming has contributed to making flooding worse in Somerset and elsewhere.
The UK government has discussed new rules which could be put in place to stop farmers contributing to flooding through poor land management.
It has been reported that some upland farmers have caused soil and water to flush into rivers by leaving fields bare and compacting land with cattle and heavy machinery.
Farmers have responded by stating that they don't want more regulations, however, environmentalists have said that grants should be withheld if farms are managed in a way that encourages floods.
Scientists have raised particular concerns over maize, which is the crop that creates the most rainfall run-off.
Some experts want maize to be banned from steep slopes altogether because its bare rows contribute so much flooding and silt.
Defra is now running informal consultations to discuss the rules over what farmers should to to qualify for the £3.6bn grants that they receive from the taxpayer.
There has been some pressure put on landowners to stop rainwater from flushing into the river system.
Farmers have, in the past, received taxpayer funding to dig drainage channels in peat in order to improve its productivity for sheep and cattle.
However, this didn't increase productivity, but did lead to more flooding as water flushed off the moorlands to and into the rivers.
This policy is now being reversed due to the recent flooding and the drainage channels are being filled.
Now we are paying again to reverse the failed policy and fill in the drainage channels.
The scheme costs £2.2m. "It's having huge impact," said Dylan Bright of South West Water when talking to the BBC.
"By the time the restoration of the catchment is completed, the moor will be able to hold the equivalent of 104 Olympic-sized swimming pools of water. It'll hold back rainfall from flowing down to places like Exeter."
News