Flood prevention body approved by councillors in Somerset
News
•
Thursday 13 November 2014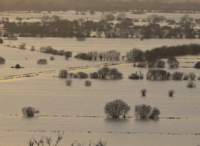 A new flood prevention body is to be set up in Somerset after county councillors approved the plans.
The Somerset Rivers Authority (SRA) would be set up in order to reduce the likelihood, duration and impact of flooding within the county.
It is set up as a key part of the 20-year Flood Action Plan, which was prepared at the request of the government, after the extreme floods.
During the winter floods of 2013, thousands of properties along with over 6,000 hectares of farmland were affected and some of the farm businesses still have months to go until they have fully recovered.
Maintaining river channels will be at the forefront of what the SRA will do if it is finally formed, along with maintaining ordinary watercourses and river flood banks throughout the county. They will also dredge and maintain dredged profiles among other tasks.
The Flood Action Plan are attempting to get the government to offer up £2.7m for funding to get a "Shadow" SRA set up and working in 2015.
The government will also have to agree to legislation that would enable the SRA to levy finding, including the fire and rescue service.
The SRA will also propose to raise funds locally through a countywide charge that will come into action in 2016.
John Osman, the Somerset County Council leader, said that he was looking to meet with Elizabeth Truss, who is the Defra secretary, and secretary of state for communities and local government, Eric Pickles. Mr Osman wishes to do so to be able to finally get an answer to the SRA funding question.
Picture courtesy of
Nick
via Flickr Creative Commons.
News