First Milk to make positive changes going forward
News
•
Thursday 14 February 2013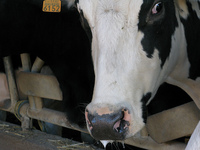 First Milk, the largest dairy farm co-operative in the UK, is increasing its milk prices and is also paying a return on the capital that has been invested by its farm owners.
In order to line up funding for more added value deals, the co-operative is also raising the amount of capital that its farmer members will invest in the business. And, it is also exploring routes where its employees and farmers who supply milk to other companies can invest in its added value growth strategy.
The standard litre milk price paid to farmers in First Milk's liquid pool will increase by 0.5ppl from 1 April. Producers in its cheese and balancing pools will see their standard litre price move by 0.4ppl from the same date.
The company will also be continuing its programme of regularly rewarding investment in the business and will pay out a 3% return on members' capital account balances in April. Since 2010, First Milk has made two returns on investment to members each year, equating to an annual payment of £1800 or 6% for an average 1 million litre producer.
Having thoroughly investigated a range of added value opportunities, the co-operative is increasing the amount of capital that its members require to invest to 0.5ppl (lifted from 0.2ppl) from April. Finally, following interest from First Milk employees and some farmers currently supplying other companies about investing in the business, the company is looking at some mechanisms to raise capital from non-members without compromising ownership of the co-operative. Members will be consulted on this route as part of regular Farmer Forum meetings before exploring this route further.
First Milk's chairman Bill Mustoe said: "We made this move on milk price as we are committed to raising our prices as far and as fast as we can. It is also important to us that we maintain our solid track record of paying out returns on the money that members have invested in the business.
"We have invested £20million over the last eighteen months on acquisitions and joint ventures through a mixture of existing bank facilities and cash generated from the business. In order to speed up our move into added value and therefore start to really move the dial on the returns we can pass back to members, we recognise that we need to go faster and further with our investments.
"The key criteria that we are looking for in opportunities are that they are added value rather than commodity focused; that they allow us to diversify our business; and that they can deliver rapid cash returns. Having now prioritised a number of options, with the support from members alongside our external funders we have the opportunity to take advantage of added value investments.
"Finally, we are looking at every avenue to secure funding for our added value investment trategy and this has prompted a number of discussions with our employees and farmers currently supplying milk to other companies. They like what we're doing and the direction we're taking and they want to be part of it. We will consult with our members on this route through our regular Farmer Forums meetings process."
News