FarmingAds are now proud sponsors of Farmula1
News
•
Wednesday 01 April 2015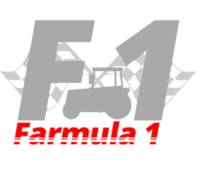 FarmingAds.co.uk are now proud sponsors of

Farm

ula 1
The new tractor racing sport will make its debut today at Silverstone and will continue across some of the biggest racing tracks in the world. Taking Farmula 1 from Monaco to Melbourne and finishing in Accrington.
Farmula 1 lets the audience fully interact with the sport by allowing them to support their favourite driver, pose for photographs and sign posters mid-race. The audience will never miss a second of the action with the all new fast motion replay. The action is sped up 10x giving the viewer live highlights while they follow the vehicles around the track as it happens over the 450 laps, meaning a fantastic twelve hours of stop-start action.
UK Farmula 1 driver, big John racing for the O'Deere team, has expressed his excitement for the sports debut and says the popularity of tractor racing is on the up. Big John had this to say "Myself and my pit crew are excited for the highly anticipated launch and we hope all of our supporters will join us on the day for the first race in the UK.
"We see Farmula 1 as a result of the farming community being increasingly popular, more and more people want to be involved with building an agricultural future and now Farmula 1 can be part of that".
Chairman of Farmula 1, Mr.T. Raktor will award the winner of the very first race presenting them with the cabbage cup with the hope of many more to come.
You can catch the race on the tractor racing channel 010415 today the 1st of April also known as April fools day.
News