Farming the most dangerous job in the UK - New Scottish campaign launched
News
•
Wednesday 20 August 2014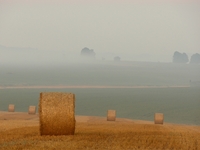 The last decade has seen almost 80 lives lost in the farming sector across the UK, leading to the launch of a campaign aimed at reducing incidents on farms and crofts in Scotland.
The industry is now the most dangerous occupation in the UK and oustrips the deaths and injuries that occur in the construction and offshore industries, according to recent research.
Revealed at the Black Isle Show in the Highlands, the new project aims to tackle the issue of safety on farms.
Earlier this month, 18-year-old Zach Fox died after he fell into a silo at a farm in Denholm, in the Borders.
And, in the past week two children tragically died in farming accidents in Ireland.
The Black Isle Show is the largest agricultural event in the Highlands, and it was there that the Farm Safety Scotland Partnership was launched. It involves the NFU Scotland, insurers NFU Mutual, the Health and Safety Executive (HSE) and the Scottish Government.
It has outlined the four most common dangers that are present on farms. These are falls, animals, transport and equipment (Fate). The Farm Safety Scotland Partnership has urged farmers not to leave their own safety, as well as that of employees and family, to "Fate".
Speaking to The Scotsman, NFU Scotland vice-president Allan Bowie, said: "Tragic incidents in the past few days across the UK and Ireland remind everyone that farms can be dangerous places, so it is important that everyone on a farm takes the necessary steps so that they can stay safe while farming.
"The Farm Safety Partnership intends to change behaviour and attitudes by promoting the steps to reduce the risks of common farm jobs."
He went on to mention that most farmers would be able to recall a "close-call" situation that could have easily ended in a serious injury or maybe even a fatality.
The HSE released its statistics which showed that out of the 76 people that were killed in the last decade, nine of them involved livestock, whilst 26 were killed by vehicles overturning, or by being struck by a moving vehicle.
A further 13 people died in falls, while six people died after coming into contact with working machinery or equipment.
Martin Malone, NFU Mutual Scotland manager, said: "Whilst other industries – including construction – have seen accidents fall sharply in recent years, the number of people killed and injured on our farms has remained high and farming is now the most dangerous occupation in Great Britain."
Richard Lochhead, the rural affairs minister was also at the launch and he stated that every single death on a farm is one too many. He went on to state: "It is therefore essential that everyone working in the industry understands the risks and takes every available precaution to stay as safe as 
possible."
News