Farming technology to receive £160m boost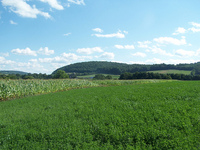 The government has recently announced that Farming technology in the UK will receive a boost to the tune of £160m.
This injection of money is set to help meet the challenges of global demand for food and land, water and energy shortages, according to the authorities.
Centres for agricultural innovation will receive £90m and £70m will be handed to projects which "bridge the gap between the lab and the market".
The government is reporting that the government is aiming to target certain areas including genetics, health in crops and livestock, sensors and robotics.
There is also going to be a new leadership council set up, which will include farmers, scientists, industrialists and government representatives.
According to the Department for Business, Innovation and Skills, the food supply chain, which runs from farming to catering and retailing, contributes £96bn to the economy. It is also reported to employ 3.8 million people.
The government has also stated that not enough of the research in Britain is being commercialised, which means that farmers and food manufacturers are unable to take advantage of any benefits that new technology might offer.
Of the £160m investment, just under half (£70m) will be invested in a "catalyst" which will fund projects from the lab to the market. And, out of that £70m, £10m will be used to fund the transfer of technology to developing countries.
Universities and Science Minister David Willetts spoke to the BBC saying that here in Britain we have a "world class science and research community". He also said that our institutes and universities are "at the forefront of agricultural research".
"To get ahead in the global race, this strategy sets out how we can ensure that we turn our world-beating agricultural science and research into world-beating products and services," said Willetts.
Defra minister for science Lord De Mauley also spoke to the BBC saying: "We face a global challenge to feed the rapidly increasing population in a way which is affordable and sustainable.
"We are investing in technologies that will enable British farmers to meet these challenges and take advantage of the growing demand in export markets for British food."
News