Farming people on the New Years Honours List
News
•
Thursday 02 January 2014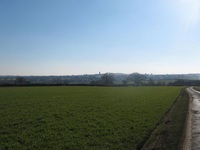 The New Years Honours List has been announced and we are pleased to announce that a number of members of the farming industry have been named in the list.
Among the list of selected individuals is John Hoyles, the former chairman of the NFU sugar board. Mr Hoyles has been awarded the MBE for services to agriculture and the local community. He farms at Wisbech in Cambridgeshire and was elected to chair the board in 2006 and stepped down in 2008. He also spent 12 years as the director of the British Beet Research Organisation.
Marian Regan, the owner of Hugh Lowe Farms in Kent, also received an MBE. Hers was for services to the fruit and vegetable industry.
Another former NFU chairman was on the list with Peter Philpot receiving an MBE for services to agriculture, the rural economy, education and young people in Essex.
But it doesn't end there. MBEs were also handed out to Surrey County Show organiser Sonia Ashworth for her services to farming; Roy Boreham, the Life Vice-President of the National Federation of Young Farmers Clubs, for his services to young farmers; and Edward Chantler, the chairman of the Kent branch of RABI, for services to farming and rural communities in Kent.
Sally-Anne Mitchell, the Honourary Secretary of the Norfolk Branch of RABI, was also awarded an MBE for her services to farming and rural communities in Norfolk.
The Managing Director of Waitrose, Mark Price, who is also the Chairman of the Prince's Countryside Fund, has been made a CVO.
Franklyn Keith, the founder of the outdoor clothing specialists MUSTO, received an OBE for services to the economy.
It has also been a good year for Geoffrey Morgan, the Chairman of the New Forest and Hampshire County Show. He was awarded the British Empire Medal (BEM) for services to farming, rural issues and heritage in Hampshire.
And finally, Leonard Tuckwell, a Suffolk farmer, was also awarded the BEM for his services to agriculture, economy and the community in Suffolk.
News