Farming needs a new image in order to get new recruits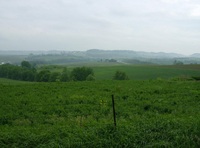 The Future of Farming review, which is a recent report, has stated that public perceptions of farming must change if the industry is to attract newcomers.
The review stated that the "pastoral" image of farming as a low-skilled and physically demanding industry, is outdated. It also claimed that farms require IT-literate, entrepreneurial staff in order to prosper.
There are a number of other barriers that are getting in the way of new recruits including high land prices and a lack of succession plans for family farms.
Ministers have said that there were a "wealth of career options" in farming.
Farmer and landowner David Fursdon chaired the review, which makes a series of recommendations in order to encourage those without farming backgrounds to enter the business. It is aiming to create an "attractive career path".
High land prices were also criticised and the £8,520 per hectare was seen as a deterrent to those who were seeking to buy existing businesses. The low number of retiring farmers was also said to be "restricting opportunities".
Farming's image has been helped greatly by recent programmes such as Countryfile and FIrst Time Farmers, however, it is still deemed that more needs to be done in order to promote the range of opportunities available in the industry. This should be done through social media channels and careers advice in schools.
Other proposals made by the review include:
Joint equity schemes in order to encourage business handovers.

Incentives for landowners to be release land for affordable housing.

Local enterprise partnerships should show more support to farming.
"There is a tension between the sometimes pastoral picture presented and the reality of an increasingly high-tech industry that requires IT-savvy, focused entrepreneurs, managers and staff to run it and work in it.
"The traditional view of agricultural work only being low-skilled and involving hard physical is no longer apt... A key component in delivering the right image is for farming to be seen as more akin to a profession practicing a huge range of skilled tasks."
News