Farming minister recognises tasks ahead with the fallen stock issue
News
•
Tuesday 16 April 2013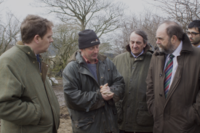 David Heath, the country's farming minister, and Meurig Raymond, the Vice President of the NFU, have both agreed on the scale of the impact the spring snow has had on stock losses in farming.
They came to their agreement during a visit to a West Cumbrian farm on Friday. Robin and Joyce Jenkinson, of Charlesground Farm, Corney, told the minister that it was impossible to know just how many sheep they lost in the weather. The reason it was so hard to tell, according to the Jenkinsons, was because the task of finding and recovering the carcasses from the fells could take a number of months to complete.
There were also a number of consequential losses among the sheep that they had managed to rescue from the snow, as well as a major reduction in the numbers of lambs born this year.
The estimated figure of eventual losses could reach as high as half of their 1,000 ewe breeding flock and the Jenkinsons also told David Heath that they need urgent help with the disposal of fallen stock along with all of the other similarly affected farmers in Great Britain.
The NFU has been continually calling for Defra, along with the National Fallen Stock Company, to make the free disposal of animals killed by the cold, a priority. The Jenkinsons told the minister that some farmers would not be able to pay for handling the vast numbers of animals that they have lost.
Mr Jenkinson said that while the farm had experienced severe snows before, with drifts even bigger than the 15ft experienced this spring, the recent weather had been unexpected. The last severe spring snows had been easier to manage, he added, as they had come in two falls with a gap in-between.
Picture courtesy of the
NFU.
News